»

131109 [NEWS] MBLAQ's G.O. puts on a sincere stage on 'Immortal Song 2'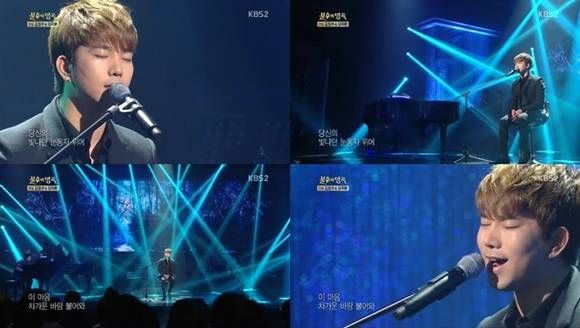 MBLAQ's G.O. got serious for his performance on the November 9th installment of 'Immortal Song 2'.

Before his cover of Kim Jung Soo's "My Heart to You", G.O. commented, "Of all people, I had to perform after Lim Tae Kyung. I was nervous."

Despite his sincere performance, G.O. was right to be nervous as he wasn't able to surpass Lim Tae Kyung's 416 points for the round. Check out his performance below.
http://www.youtube.com/watch?v=DvhErJqtBXU
Source: allkpop by elliefilet
Reuploaded: merlinka@mblaqattack.net
Posted: merlinka@mblaqattack.net
DO NOT ADD AND/OR EDIT CREDITS WHEN TAKEN OUT OF MBLAQATTACK.